Crystal Almond Jewel 76 mm with Octagon

[XY-DF90_76_1B_C01]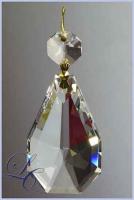 $7.78
---
Date Added: 03/26/2014 by Terrell Forister
Fast, Fantatic, Great Packaging and a Pleasure to do Business With.
---
Date Added: 03/26/2014 by Michael Irvin
Shockingly fast shipping! These prisms are so beautiful I may have to buy more!
---
Date Added: 07/11/2012 by Cheryl Bedford-Buffett
I just purchased these crystals in chrome - I am so please, the picture does not serve them justice ...
---
Date Added: 05/16/2010 by Amanda Gordon
Sparkle-Sparkle-Absolutely beautiful, Doesn't get any better-God Bless the troups
---